Like in many bands, members of the Moonshiners spend some of their time playing with others. This page highlights those groups, tells you a little about them & lets you know where you can see them next. So take a look & see what the Moonshiner members are up to.
The Poe Valley Troubadours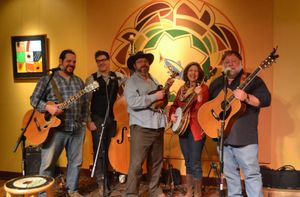 No, your eyes don't deceive you & yes, it's the right photo. Allow us to introduce our alter ego: The Poe Valley Troubadours.
Once two separate groups that had no direct relationship with each other, the Troubadours and the Moonshiners have, over time & member by member, morphed into one. Personnel changes can offer up some interesting results.

The Poe Valley Troubadours, with our own blend of acoustic delights, have established ourselves as the "house band" at the Elk Creek Cafe in Millheim, PA.

And that's where you can still catch us play as the Troubadours: we play every 3rd Thursday of the month. Join us. We change things up a little from our Moonshiner stuff & often feature special guests. Plus, the Elk Creek Cafe has some of the best beer & food around!

You will find all our Poe Valley Troubadour appearances also listed on our Moonshiners shows page.
The Stevedores
is the acoustic duo of Moonshiners (Troubadours?) Steve Crawford on guitar and Stephen Buckalew on mandolin.
Something that started sort of by accident, the Stevedores have evolved from a one show wonder into an established act with an impressive variety of material. By following the rule of three: one third songs you know, one third songs they want you to know & one third original material, a Stevedores show offers up a little something for everyone.
The Stevedores can be found playing in select locations around the Centre region & they make regular appearances at
The Bar
, in Boalsburg, PA.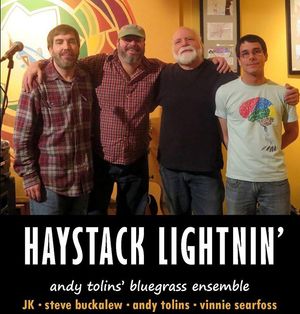 Founded and lead by local music legend,
Andy Tolins
& featuring Moonshiner Stephen Buckalew on mandolin and fiddle, Haystack Lightnin' is one of the hottest and well seasoned bluegrass bands in the region.
The band Haystack Lightnin', founded over a dozen years ago & once known as the Bluegrass Revue, has remained a mainstay of the local music scene of State College, PA. In fact, it was the one of the first bluegrass bands that Stephen Buckalew played with. And though he has since gone on to star in his own band with the Moonshiners, Stephen remains a full time member of Haystack Lightnin'.
Unlike the Moonshiners, Haystack Lightnin' is a bluegrass band that really plays some bluegrass. And like the Moonshiners, they have a wealth of original material that spans the acoustic globe. They're well versed in the repertoire of classic bluegrass songs and masters of original material rooted in & influenced by some of the greatest songs from the twentieth century.
You can catch Haystack Lightnin' every Wednesday night starting at 10-30pm at
Zeno's Pub
in downtown State College, PA.